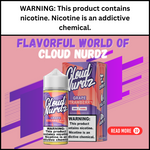 Are you ready to take your vaping experience to the next level with deliciously bold flavors? Look no further than Cloud Nurdz, a brand that's making waves in the vaping community with their mouthwatering e-liquids. Below we're going to delve into the tantalizing world of Cloud Nurdz E-Liquids, focusing on some of their most popular flavors.
Blue Raspberry Lemon by Cloud Nurdz 100ml
Imagine a tangy blend of sweet, blue raspberry syrup with a tart, refreshing edge, paired with lemon zest for extra mouth-puckering goodness. That's precisely what Blue Raspberry Lemon by Cloud Nurdz delivers in every puff. This combination of flavors is like a zesty explosion for your taste buds, making it an ideal choice for vapers who crave a balance of sweet and sour.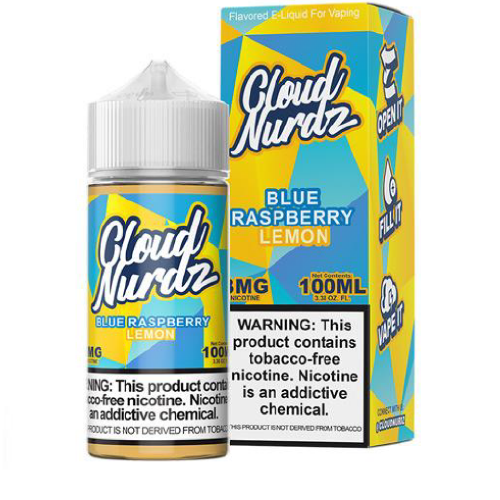 Sour Watermelon Strawberry by Cloud Nurdz 100ml
Sour Watermelon Strawberry is a flavor-packed e-liquid that promises tons of vapor production and a burst of tantalizing flavor. The strawberry notes in this blend are perfectly balanced, offering a natural sweetness without overwhelming artificial undertones. The watermelon component brings both sour and sweet notes to the mix, creating a mouthwatering fusion of flavors. Together, they create a harmonious combination that is sure to please even the most discerning vapers.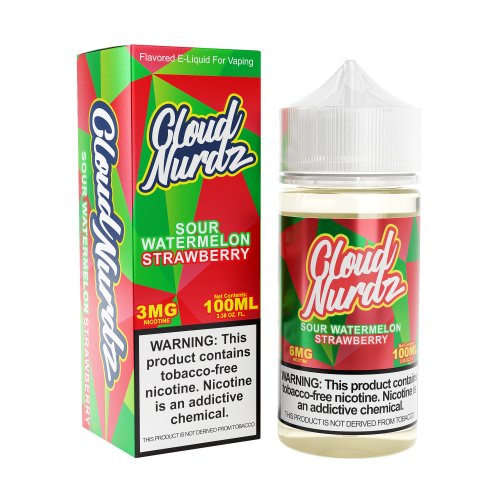 Kiwi Melon by Cloud Nurdz 100ml
For those seeking a truly tropical vaping experience, Kiwi Melon by Cloud Nurdz is a must-try. This e-liquid takes fresh kiwi and ripe melon, blending them into an ADV (all-day vape) god-like mixture of tropical fruit goodness. With each inhale, your palate will be drenched in the savory essence of ripe kiwis, while the exhale delivers a juicy mix of melon flavors. Kiwi Melon by Cloud Nurdz is a delicious blend that promises to keep you coming back for more.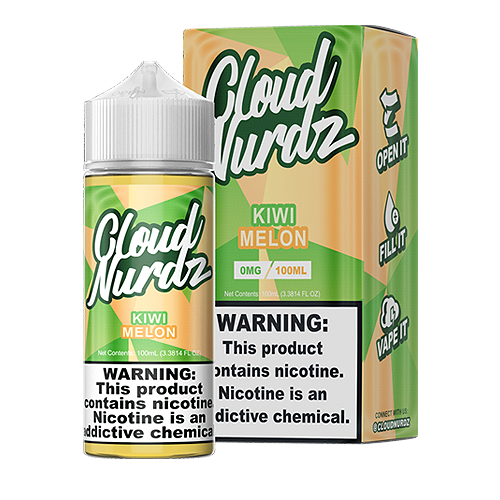 Grape Strawberry by Cloud Nurdz 100ml
Grape Strawberry from Cloud Nurdz is here to redefine your expectations of a truly excellent e-liquid. This flavor, part of the Cloud Nurdz E Liquid collection, is all about offering a fantastic cloud and flavor experience. The combination of grape and strawberry creates a vaping experience that's hard to put down after a few pulls. Prepare for your taste buds to be educated on what an exceptional e-liquid should taste like.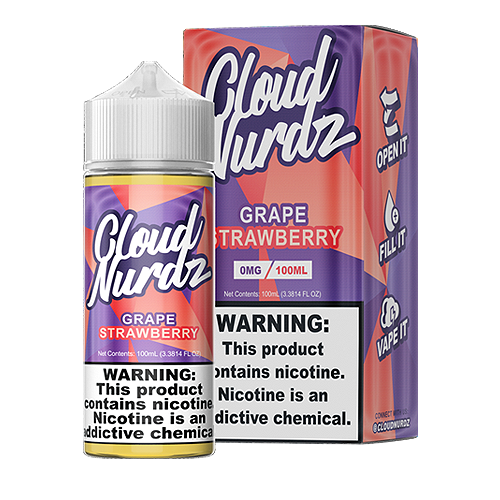 Sour Watermelon Strawberry Iced by Cloud Nurdz 100ml
If you're a fan of the Sour Watermelon Strawberry blend, Cloud Nurdz has taken it a step further with Sour Watermelon Strawberry Iced. It still boasts the perfect balance of strawberry and watermelon but adds a refreshing icy twist. This e-liquid combines mouthwatering flavors with a cool menthol breeze, providing an exhilarating experience for those who enjoy a touch of frost with their fruity flavors.
In conclusion, Cloud Nurdz E-Liquids are a must-try for any vaper seeking bold, authentic flavors. With a variety of options to suit your taste preferences, Cloud Nurdz offers a delightful vaping experience that's sure to leave you craving more. Whether you're into fruity, sour, or icy flavors, Cloud Nurdz has something to satisfy your vaping desires. Give them a try and discover your next favorite e-liquid today!