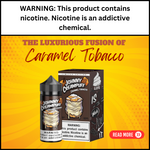 Prepare yourself for a vaping sensation that combines the sophistication of caramel tobacco with the indulgent sweetness of a classic Italian creampuff. Caramel Tobacco by Johnny Creampuff 100ml, expertly crafted by Tinted Brew Liquid Co., delivers an unforgettable blend of rich caramel, smooth tobacco, creamy vanilla, and delectable cream.
Embrace the Melody of Tantalizing Tastes:
Caramel Tobacco by Johnny Creampuff is a masterpiece of flavor combinations. It skillfully harmonizes the primary flavors of luscious caramel, earthy tobacco, velvety vanilla, and sumptuous cream. With each puff, your taste buds are immersed in the luxurious sweetness of caramel, while the subtle undertones of rich tobacco add a layer of depth and complexity. The smoothness of vanilla and cream further elevates the overall experience, creating a symphony of flavors that is truly divine.
Exquisite Artistry in Every Bottle
Manufactured by Tinted Brew Liquid Co., Caramel Tobacco by Johnny Creampuff 100ml exemplifies the brand's commitment to excellence. Carefully fashioned with top-notch ingredients, this e-liquid stands as a testament to their unwavering commitment to delivering vapers a truly premium vaping experience. The perfect balance of flavors and the attention to detail make every bottle of Caramel Tobacco a work of art.
Diverse Nicotine Levels for Personalized Vaping
To cater to a variety of preferences, Caramel Tobacco by Johnny Creampuff is available in three nicotine levels: 0mg, 3mg, and 6mg. This e-liquid caters to all preferences, offering a nicotine-free alternative for those seeking a gentle experience or a mild to moderate throat hit for those desiring a bit more intensity. The VG/PG ratio of 70/30 ensures a smooth and satisfying vaping experience, striking the ideal balance between vapor production and flavor delivery.
An Exquisite Vaping Journey:
Caramel Tobacco by Johnny Creampuff offers more than just a delightful flavor profile; it takes you on a journey of luxury and indulgence. Each inhale envelops your senses with the seductive combination of caramel and tobacco, while the exhale unveils the creamy vanilla and luscious cream notes, leaving a trail of irresistible aromas. It's an exquisite vaping experience that captivates both novices and experienced vapers alike.
Versatility and Creativity:
One of the most appealing aspects of Caramel Tobacco by Johnny Creampuff 100ml is its versatility. It serves as a blank canvas, inviting you to explore your creativity and experiment with blending it with other flavors. Add a hint of coffee or a dash of chocolate to customize your vaping experience and create your own signature combination.