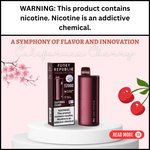 Are you ready to indulge your senses in a world of extraordinary flavors and cutting-edge technology? Brace yourself for an exhilarating vaping experience with the California Cherry Disposable Vape (7000 Puffs) by Funky Republic Ti7000. This remarkable device will tantalize your taste buds with its delightful combination of sweet and sour cherry flavors, while its innovative features set it apart from the rest of the disposable vape market.
Prepare to be amazed as the Funky Republic Ti7000 by EBDESIGN (formerly ELFBAR) introduces a new era of vaping innovation. The Ti7000 proudly boasts a revolutionary digital display, a first in the realm of disposable vapes. This digital marvel provides real-time information about your liquid levels and battery life, empowering you with greater control and convenience during your vaping sessions.
The California Cherry Disposable Vape (7000 Puffs) by Funky Republic Ti7000 sets a new standard with its generous 17ml reservoir, filled with EBDESIGN's premium e-liquid. Dive into a sea of flavor as the Ti7000 utilizes the renowned QUAQ Tech mesh coil, renowned for its exceptional performance in the ELFBAR BC5000 Ultra. This cutting-edge coil technology ensures a consistently satisfying and flavorful draw, captivating your senses with every puff.
With a dependable 600mAh battery, the Ti7000 ensures you have the power to enjoy extended vaping sessions. Say goodbye to long waiting times with the fast-charging USB Type-C input, allowing you to recharge your device quickly and effortlessly. Whether you seek an energizing morning vape or a relaxing evening indulgence, the Ti7000 stands ready to provide you with an impressive ~7000 puffs of pure vaping pleasure.
Not only does the Funky Republic Ti7000 excel in functionality, but it also exudes elegance with its refined luxury case. Its sleek and ergonomic design guarantees a comfortable grip, making it a stylish accessory you'll be proud to showcase. The inclusion of an LED display screen adds a futuristic touch, providing you with vital information at a glance while enhancing the device's overall aesthetic appeal.
Conclusion:
Embark on an extraordinary vaping journey with the California Cherry Disposable Vape (7000 Puffs) by Funky Republic Ti7000. Let the enticing blend of sweet and sour cherry flavors dance on your palate, while the innovative digital display elevates your vaping experience to new heights. Immerse yourself in the vast e-liquid reservoir and savor the exceptional performance of the QUAQ Tech mesh coil. With the Ti7000 in your hands, you hold a testament to the ever-evolving world of vaping, where flavor and technology unite to create an unforgettable symphony of enjoyment.