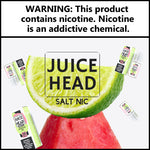 Have you ever squeezed a lime over watermelon? If yes, you must love the perfect fruity blend. Juice Head Salts specializes in providing a comprehensive range of vape juice flavors including the Watermelon Lime vape juice by Juice Head Salts 30ml. This unique flavorful vape juice brings the best of the both fruity worlds to take advantage of every session.
You will enjoy the fruity notes of succulent juiciness and tangy tartness that will make the palate going in every sort of direction for some mouthwatering delight. This Juice Head Salts vape juice makes sure that there is no fine line between the sweetness and sourness. Both flavors can go together and do very well.
Juice Head Salts takes the fresh succulent watermelons and sour limes combined together that will throw a party in your mouth in the best way as possible. This ejuice feels like eating watermelon. The lush bite of the sweet juicy watermelon gushes over your tongue. When you puff on this vape juice, you will take advantage of its fruity delights.
After that, a splash of bitter, sour notes of lime will make a grand entrance and give you refreshing experience that limes give off. Both flavors are combined together to create a new set of flavor that any vaper can love.
When you inhale, your vape palate gets enough sharp citrusy splendors from limes which make its way down your throat. As soon as you start salivating, the sweet flavored watermelon brings in more flavors to this profile. Once it's time to exhale, you will start experiencing the intense fruitiness that will give you fresh feeling from head to toe.
Watermelon Lime vape juice from Juice Head Salts comes in a small 30ml bottle. It has fully flavorful base of 60/40 VG/PG that every vaper will take advantage of. This salt based nicotine vape juice gives you a much relaxing experience when the temps start soaring. You just don't take these words for it; instead grab this Juice Head Salts flavor today for an optimal vaping experience.
Are you thinking to buy the Watermelon Lime vape juice by Juice Head Salts? If yes, then start shopping it from Ejuice Store. You will enjoy vaping the sweet flavored watermelons along with the juicy sourness of lime. This ejuice explodes with puffs of awesomeness. Your taste buds will be asking for more; so you should give them what they really deserve.