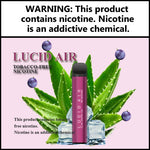 Have you recently become a vaping fan but realized there is not just one flavor? And it is not necessarily bad that there are so many flavors to choose from. However, you could definitely get lost among all of the options, especially if you are new to vaping.
With so many options like Grape Ice Disposable Pod Vape Juice, Menthol Aloe Grape Ice Disposable Pod, Blazzberry Lemonade by Vape Maid, Strawberry Kiwi by Air Factory Fruits, and many more, how do you choose the best juice for your vape?
Keep reading to find out how to choose the right vape flavor that you will absolutely love.
How Vape Flavors Are Made
Understanding how a vape flavor is made might help you greatly. Vape flavor components include nicotine, propylene glycol, vegetable glycerine, and flavoring. E-juice has specific ratios of VG and PG which are the most important factors for determining multiple factors like vaping cloud sizes and potency of taste.
There is the flexibility of mixing both VG and PG to get the best ratio. You can also adjust the levels of nicotine or even opt out of nicotine altogether if you prefer.
Choose a Single or Multi Flavor
Another factor is to decide whether you would like a vape flavor that pretty much has one flavor or you would prefer one with more than one flavor combined. If you want to begin with a basic, predictable flavor, go with a single flavor. And if you want to get creative and experience other unique flavors, try a multi-flavored e-liquid.
Try Different Flavor Samples
A straightforward way of finding the right e-juice flavor is to try different samples. Hop on some of the most popular flavors like
Try them on different ends of the spectrum and choose a few of the best vape flavors and bring them home to see if you still enjoy it for the longer term.
Choose by Personal Preference
The best way to start with an e-juice flavor is to list down the flavor types that you prefer and already enjoy. There is a wide selection of e-juice flavors that covers different types of taste buds. And most online shops have a large variety that you can choose from.
Still, need help finding a vape flavor you will love?
Are you looking to get started on finding a vape flavor that will suit you will? Refer to our tips and visit us for some of the best vape flavors to satisfy your taste buds.
Find your perfect flavor match with us!