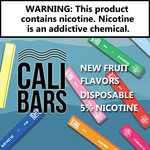 Disposable pod devices are considered as viable alternative for vapers seeking for pre-filled vape pods. They have gained major foothold by pulling the flavors that adults preferring from the market. This trend has left disposables as a natural choice for millions of adults looking to ash and smoke-free cigarette alternatives in flavors other than tobacco.
Disposable pods have proven incredibly popular with adult vapers as they're fully-satisfying, easy to use and are available in different flavors that former smokers and adult vapers prefer. They are the easiest and the most convenient way to vape. The pre-filled disposable vape pod kit combined with NIC Salt e-juice offers a user experience that goes beyond or exceed any vaper's expectations. So far, they are considered as more cost effective.
Buying Cali Bars Disposable Pod with Lower Nicotine Strength
Cali Bar sets apart and competes in the vaping industry on the base of its wide assortment of flavors. If you're looking for easy-to-use and maintenance-free disposables, you should look no other than the Cali Bars collection.
However, Cali Bars disposable pod devices are able to compete with other disposables of heavy weights because of their diverse flavors and a nearly unparalleled selection of lower nicotine strengths. You'll get to choose from different flavors available in both 2% and 5% nicotine strength.
Both of them are on the list of disposable vape's greatest throat hits. You'll notice that the Cali Bars flavors are some of the most popular NIC salt flavor profiles that have ever formulated. Out of all flavors, Orange Soda Disposable Pod by Cali Bars is the one you should go for wonderful and refreshing orange-filled experience.
Purchasing Orange Soda Disposable Pod by Cali Bars
Are you in search of delicious fruity flavors? If yes, then it's time to grab Cali Bars Orange Soda Disposable Vape and spoil yourself with its delectable flavors that you've been longing for all the while. This vape comes ready to vape right out of the box and features a convenient draw-activated firing mechanism.
Orange Soda Disposable Pod by Cali Bars is pre-filled with 2% and 5% nicotine e-liquid and offers around a 300 puff count, which sounds amazing right! You'll feel like why all these Orange Soda disposables are hitting the market now and why you haven't think of using it earlier!
Orange Soda disposable pod is a sweet, satisfying and refreshing vape and is considered as popular flavor that most vaping enthusiasts love to have. Not quite candied, but certainly sweet, there's an icy finish that keeps everything properly balanced.
Where Do You Buy Orange Soda Disposable Pod by Cali Bars?
When it comes to buying Orange Soda Disposable Pod by Cali Bars, you should look no further than Ejuice Store. We have an extensive assortment of disposable pods from the Cali Bars collection available in different flavor notes and blends to choose from.
Whatever your flavor preferences are, we'll help you get covered. So, why are you waiting for! Shop now and experience the Cali Bars Orange Soda flavor to know it in person!