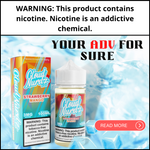 More often, an extensive list of the latest and greatest products gets launched every year. New vape flavors continue to emerge and boast a whole new combination of flavors blended all together to create a wonderful vaping experience like no other. If you're on the market to add another excusive vape juice to your collection, why don't you consider the Cloud Nurdz Eliquid! 
Consider Cloud Nurdz as Your All-Time Vape Brand –
It's time to uplift your vaping experience through the extensive selection of Cloud Nurdz. This vape brand certainly brings you fascinating and delectable vape juice blends. Cloud Nurdz is one of the most recognized names in the vaping industry and it's because of the mixologists developing a perfect mix of flavors and infusing them with one another. 
Cloud Nurdz Eliquid is well-known as a premium vape juice brand throughout the vaping industry for developing superior quality and flavorsome vape juice blends to choose from. As a leading name in the industry, the eliquid brand continues to develop a highly intoxicating selection of flavors including both candy and fruit flavors. 
Throughout its prolonged journey, Cloud Nurdz Eliquid has been creating incredibly crafted award-winning flavorsome vape juice blends that make vape enthusiasts rely on Cloud Nurdz Eliquid every day. Strawberry Mango Iced vape juice by Cloud Nurdz Eliquid is the newest arrival that hits the market for offering a thrilling and much exciting experience you never want to miss out on. 
The Strawberry Mango Iced vape juice presents you with the most outstanding taste that will make you fall in love with it for sure. This delectable vape juice combines a tempting blend of flavors giving the ultimate thrilling and chilling sensation to your taste buds. It presents you the most delightful flavor combination consisting of mouth watering strawberries, the juicy mangoes and ice cold menthol finish with a perfectly rounded candy delight. This makes a perfect addition to your all-day vape collection and will fit into the rotation of flavors easily. It may be your all-time favorite within no time. 
Cloud Nurdz Strawberry Mango Iced vape juice comes in a 100mL bottle and uses the Tobacco Free Nicotine (TFN) in 0mg, 3mg, and 6mg to choose from for your ultimate vaping experience. This Cloud Nurdz Eliquid flavor is definitely the quick solution that you've been looking for all the while, filled with delicious flavors.  It will fill up your mouth with a delicious blend of strawberry, mango, candy and menthol. When you vape Strawberry Mango Iced vape juice, you will feel thankful for every puff you take. If you want to shop for the Strawberry Mango Iced vape juice by Cloud Nurdz, you should look no further than a reliable online vape store i.e. Ejuice Store.