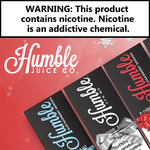 Humble Juice Co. is a premier vape manufacturing company based in Southern California. As a premier name in the vaping industry, Humble Juice Co. strives to create and develop some of the most popular premium flavored vape juices available right now.
The vape juice brand continues to appeal vapers from all around the world through its iconic and delectable tastes. The vaping company utilizes a group of expert mixologists to perfectly craft a comprehensive range of fascinating flavor concoctions that range from candy, fruit to dessert flavors.
With an extensive arsenal of vape juice delights, every flavor is made with only the finest standard ingredients to create quality vaping experience that you will want to do again and again.
Watermelon vape juice is an amazing vapor that uses watermelon to deliver the classic pure taste which you will fall in love with for sure. This wonderful vape blend tastes like an authentically flavored seedless watermelon and delivers the incredible fruity delight that you crave. From inhale to exhale, the smooth and delicious seedless watermelon is sure to become your favorite.
This Humble Juice Co vape juice gives you a sweet and berry-filled mix on every puff. It's an authentic all-day-vape juice that you will appreciate every time you open the bottle and take a whiff of its intoxicating flavor.
The Blue Raspberry premium vape juice combines the sweet combination of raspberries and blueberries creating a perfect vape juice blend. This phenomenal flavor is worth trying at least once in a lifetime. If you are after an unforgettable berry experience, this remarkable blend is sure to delight you.
Mango Passionfruit is one of the top blends that most vapers prefer when choosing expertly crafted flavors. It's your go-to vape juice blend that gives a mashup simply tasting like a paradise.
This delightful vape juice blend delivers an amazing taste as it comprises of tasty sweet and juicy mangoes along with the exceptional and everlasting taste of passionfruit. This remarkable blend takes you on a tropical getaway that seems like a taste of paradise in a bottle which you can enjoy any time.
Whether you're looking for dessert flavored vape juice or want your taste buds to experience a new world of perfectly crafted vape blends, Banana Bread by Humble Juice is second to none. You will have a delicious experience from very first puff, leaving you with delicious taste that will make you want for more. This unique concoction comprises of bananas, butter, and bread that are combined together to create a buttery Banana Bread that you will love ultimately.
Kiwi Berry Citrus Vape Juice by Humble Juice Co is a wonderful flavor profile that your taste buds will simply appreciate. The amazing blend of juicy kiwi, mixed berries and citrus make a mild and intoxicating vape. This vape juice is sure to thrill your tastes. Kiwi Berry Citrus Vape Juice is a truly refreshing vape blend that will become your all day vape from the very first puff you take.
Bottom Line –
What flavor do you like from Humble Juice Co? Whatever your vaping experiences, Ejuice Store will get you covered. For more information, feel free to reach out to Ejuice Store right away.