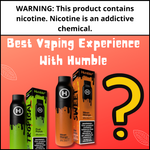 Humble Juice Co is a premier name in the vaping industry and is innovating flavorful vape blends continuously. They have been developing blistering additions to grow their brand in the form of a disposable vape. 
The Humble Juice Co disposable vape is a promising vape device featuring with a fabulous design, providing you with an utmost level of convenience, enormous capacity and many of the same original tastes you'll simply love for sure. 
The Humble Juice Co is a superior standard disposable vaping device boasting an extraordinary design offering an attractive look that you and most vaping enthusiasts will adore the most. The device comes with a large size integrated battery and a hefty puff capacity. 
As a result, you'll take advantage of as many as 3000 puffs per every device. Every Humble Juice Co disposable pod has tobacco free nicotine salts available in a 5% (50mg) strength and infusion of unbelievable flavor concoctions to choose from. 
The Humble Juice Co is one of the most anticipated brands in the vaping industry. Their disposable devices have garnered immense recognition and combined the Humble's original flavors. This way, their vapers continue vaping the same tastes they always love. Please take a look at a few delectable Humble Juice Co Disposable Pod flavors for worthwhile vaping experience. 
Indulge in a wonderful burst of flavor concoction blending the tartness of blueberries and juiciness of raspberries together. This makes a perfect summer vape which will give you a refreshing and chilling experience. It's an ideal all-day vape which recreates the classic taste of classic blue slushee in a vape form. 
Are you looking to improve your overall vaping experience? If yes, then why don't you buy Fruit Punch Disposable Pod by Humble! This delicious blend will be the perfect vape that you're looking for all the while. It makes an ideal treat for summer which combines Hawaiian juicy fruits and a soft chew recreating the fruit punch flavor that you'll love vaping again and again. 
Want the most soothing vape experience? Why don't you vape Peach Pleasure Disposable Pod by Humble! It will please your taste buds every puff you take for sure. This disposable pod comes with a delicious symphony of flavor bringing a wonderful combo of juicy strawberries, exotic dragon fruit and ripe peaches. It will give you the perfect vaping experience every time. 
Smash Mouth Disposable Pod (3000 Puffs) by Humble boasts a mouthwatering blend of flavors comprising of delicious strawberries, an exquisite combo of crackers and the delicious taste of custard all mashed up together creating the most incredible flavorful experience that you've had ever. 
Take your vaping journey to new heights through Mean Mango Disposable Pod by Humble. You'll simply love this amazing concoction of flavors. It combines the juicy mangoes and bone chilling blend of menthol, giving you the perfect taste of flavor. This refreshing vape will be your all-time favorite within no time.
Bottom Line –
What's your favorite flavor from Humble Juice Co? Nevertheless of your preferred flavor, you'll get them at Ejuice Store. Apart from them, you'll get to choose from an extensive selection of flavorful vape juices and disposable pod devices for an ultimate vaping experience.