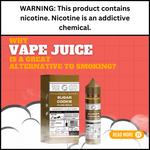 Only smokers know how difficult it is to stop smoking! While many are successful in quitting, many seek assistance. With such countless choices accessible and available smokers frequently get overpowered to decide the correct method for throwing the smoking propensity out.
We at E Juice Store, are a premier destination for all vapers. We believe that Vape Juice & vaping is the best and most effective way to stay smoke-free and look classy at the same time. Also, we have proof to back this conviction of our own. Do you want to know why we advise quitting smoking & prefer Vape Juice or vaping? The reasons for this are as follows:
The Habit
Many smokers have a habit of holding a cigarette in their hand and inhaling it through their mouth. The hardest part of quitting smoking is breaking that habit. With vaping, smokers find the stopping system simple since they get e-cigs to hold and breathe in the vape, even if they see fume ascending as they draw; it gives a vibe of smoking. Additionally, this activates the muscle memory associated with smoking that has developed over time. As a result, you can satisfy your subconscious desire to smoke while avoiding the harmful effects of tobacco smoke. In addition, vaping is the only alternative to smoking that provides the same throat-hit sensation as smoking.
Cost-Viability
Vape Juices are financially savvy options for customary tobacco cigarettes. The way you approach vaping affects how much it will cost overall. For instance, if you want to gradually reduce your nicotine intake until you quit, you will gradually purchase fewer vape juices. It will cost much less than its traditional counterparts.
Convenience
To get started with convenience vaping, no prescription is required! You can begin vaping at any time. In addition, you can choose when to start vaping, the nicotine strength of your juice, the flavor you like best, and the type of device you want to use.
Regulation of Nicotine Levels 
While you can't control how much tobacco you consume when you smoke, you can control how much nicotine you use when you vape. Even though the amount of nicotine you should take depends on how much you smoke, you can take less or more depending on what you want and need. Here, we'd like to point out that it's perfectly normal to feel thirstier than usual when you start vaping for the first time. When you feel thirsty, sip water!
A Delicious Experience 
The beauty of vaping is that it gives you a wide range of flavor options, unlike smoking. A lot of smokers have given up smoking because they liked the different flavors of vaping. Discussing flavors you can find fruity flavors, dessert flavors, sweets flavors, mint flavors, and even tobacco flavors. However, the Basix Series brand from the house of Glas is among the most popular vapers. Particularly the Sugar Cookie by Glas Basix Series 60ml flavor has a distinctive flavor and it produces a lot of clouds.
Conclusion
There are many other flavors by the Basix Series brand from the house of Glas and many other top vape juice manufacturers that we carry in our inventory. If you want to relish the Sugar Cookie by Glas Basix Series 60ml or any other flavors with us, browse our website today.