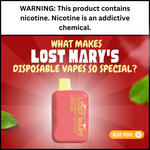 Lost Mary's Disposable Vapes are a revolution in vaping flavor and convenience. Vaping devices have evolved from traditional e-cigarettes to sleek, compact, and user-friendly options. Among the many brands, Lost Mary's Disposable Vapes got all the attention for its unique features and exceptional vaping experience. Some of the flavors, like Strawberry Pina Colada Disposable Vape (5000 Puffs) by Lost Mary OS5000, are one of the best sellers and are popular among most vaping enthusiasts.
Let us explore the best things that set Lost Mary's Disposable Vapes apart from the competition!
Enjoy Unmatched Convenience
Lost Mary's Disposable Vapes ensure comfort for the vapers. Unlike traditional vaping devices, which need frequent refills and maintenance, Lost Mary's offers a hassle-free vaping experience. Each Lost Mary's disposable vape comes pre-filled with top-quality e-liquid. Once completed, you can discard the vape and get another one. It eliminates the requirement for extra e-liquid bottles, making Lost Mary's the ideal choice for on-the-go vapers.
Get Exceptional Flavor Selection:
One of the standout features of Lost Mary's Disposable Vapes is its exceptional flavor selection. The brand offers extensive flavors crafted to cater to diverse preferences. Whether you appreciate dessert, fruity, tobacco, or menthol-propelled flavors, Lost Mary's has a vape for everybody. Each flavor has the best blend of the highest quality ingredients. Users can indulge in their favorite flavors without compromising on taste thanks to Lost Mary's authentic and satisfying flavor experience.
Assures of Premium Quality:
Lost Mary's Disposable Vapes focus on quality and safety! The Lost Mary brand uses only premium ingredients in its e-liquid formulations. To guarantee a consistent and dependable product- each vape undergoes stringent testing and quality control procedures. Lost Mary's Disposable Vapes also follow industry standards and regulations, giving users peace of mind about the safety and integrity of their vaping experience.
User-Friendly Design is Best for All Vapers:
Lost Mary's Disposable Vapes features a user-friendly design that caters to both novice and experienced vapers. The sleek and compact form factor fits comfortably and is discreet enough for vaping while on the go. The device is draw-activated, meaning users can inhale to activate the heating element and enjoy smooth and consistent vapor production. This simplicity of use makes Lost Mary's Disposable Vapes accessible to vapers of all skill levels.
Competitive Pricing:
Lost Mary's Disposable Vapes provide excellent value for money. The brand never compromises on quality in terms of competitive pricing. Each disposable vape has a generous amount of e-liquid, ensuring long-lasting use. Vapers can have an exceptional vaping experience without spending more for Lost Mary's vapes.
Conclusion:
Lost Mary's Disposable Vapes has gained recognition and popularity within the vaping community for its exceptional features and commitment to quality. The brand's dedication to convenience, flavor selection, safety, sleek design, and competitive pricing sets it apart. Whether you are a novice or a seasoned vaper, Lost Mary's Disposable Vapes offers a reliable and enjoyable vaping experience. With their commitment to innovation and customer satisfaction, Lost Mary's continues to redefine the vaping landscape and remains a top choice for vaping enthusiasts worldwide.
At EJuice Store, you can explore and buy some of the best flavors like Strawberry Pina Colada Disposable Vape (5000 Puffs) by Lost Mary OS5000!