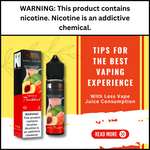 Vaping is a great substitute for smoking and it is less expensive as well. Sure, it may entail you being able to try each flavor. A 60 ml bottle of vape juice will go for 20000 puffs easily. But sometimes you may feel that you are exhausting your e-juice even if you don't vape all day long. It is perhaps denting your wallet big time. But what are the relevant facts in this case? Let's find out what are some of the best & easiest ways to use less e-juice for a pleasurable vaping experience.
Try a simple yet old-fashioned vaping:
Retro vaping means going back to the basics. No frills & No tricks! The most basic e-cigarettes are generally the most efficient & last the longest. Higher atomizer resistance, higher nicotine strengths, and low power entail the vaping device will consume less e-juice. Their long-lasting batteries ensure an overall happy vaping experience. While vaping is now more fun and fashionable than it was first. But it does not entail you cannot relish the unfussiness of a good e-juice and it will last throughout the day. Switching to vaping will help you accomplish just that.
Boost your nicotine level:
If you discover yourself vaping relentlessly and it just is not hitting the spot, then feel free to boost your nicotine level. If you are an experienced vaper and still discover yourself consuming all day long, then don't hesitate to use e-liquid with more nicotine strength. It will help you in making the most of your e-juice. 
Buy  a best device":
Larger batteries & sub-ohm vaping are both definite ways to race through your e-juice. This perhaps applies to you if you are a trickster who likes a good vape cloud. Why not purchase a smaller, more basic e-cigarette to use at work as it is quite improbable that you will be able to spray vapor clouds all over your workspace? By doing so you will be able to utilize a small volume of e-juice throughout the day. You can make big clouds even when you are at home.
Repair your leaking vape tank:
Leaking e-cigs are prevalent because very often vapers fill them wrongly or sometimes overfill them. If you are filling your vape tank correctly, but it is still leaking, then it is time to get it repaired. Your vape tank may be overfilled or damaged or you may have e-juice in the center tube. Try to clean this with the help of a paper soft towel if needed. You can replace the tank if the leak continues. Don't forget to check it out at regular intervals. It will keep you safe from any hazards. Make sure you can continue to enjoy vaping as long as you can.
Be aware of your e-juice usage:
Keep an eye on your consumption all through the week. It will help you assess where you can reduce your usage. It could even mean offering yourself 'vape breaks' like you'd have done back in the day with a smoking break.
Conclusion
Give Devil's Punchbowl by Khali Vapors 60ml a try if you want to enjoy freshly picked Asian guava blended with sweet juicy peaches. This delicious blend will not leave you disappointed. Visit the Ejuice Store now to place your order! Focusing on industry-standard customer support and shipping service, we at Ejuice Store have become your one-stop shop when it comes to purchasing vape juice online. For more information about our vape store, feel free to visit https://www.ejuicestore.com/.