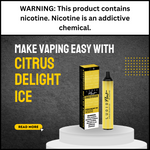 Disposables vapes make vaping easy
Peel away the cellophane from the packet. Open the box. Remove the Lucid Flow disposable vape pen and pop out a pair of silicone stoppers found on each end. Hold the tapered mouthpiece of the citrus delight ice disposable vape pen to your mouth and inhale. This is all it takes for an adult of legal smoking age to enjoy the flavor and performance of a draw-activated disposable vape! 
What are citrus delight ice disposable vapes by the lucid flow?
We offer the disposable vape pre-filled with delicious Menthol, Citrus, and Lemon e-juice and ready to use with a pre-charged battery. Neither pre-filled vape pods nor squeeze bottles of liquid into tiny fill ports are necessary. It consists of a pre-charged 2200mah battery, a heating element or atomizer that creates vapor, a draw activation mechanism that is triggered by inhalation on the mouthpiece, and a cotton polyfill soaked with citrus delight ice e-liquid. The pre-charged 2200mah battery ensures that the battery does not give up the ghost before the e-liquid has been vaporized. Don't feel like priming coils or getting e-juice on your fingers while swapping one out? Not a problem! You can start using our citrus delight ice disposable vapes (5000 Puffs) by Lucid Flow disposable the second it is unwrapped. For adult traditional nicotine users, it represents less labor than applying a lighter to a traditional nicotine form.
Nicotine content 
It is thanks to high-strength nicotine that modern disposables are so capable of providing satisfaction and great flavor. In a nutshell, nicotine salts are created by adding benzoic acid to regular nicotine. This nicotine can be of tobacco or non-tobacco origin. It has a much lower pH level and crosses the blood-brain barrier more easily. A lower pH means that more nicotine can be added to a given juice without making it too harsh for a normal human to endure. High nicotine strengths allow what would have previously been an underpowered e-cigarette to provide satisfying performance. Our citrus delight ice disposable vapes (5000 Puffs) by Lucid Flow featured a 5% (50mg) Tobacco Free nicotine level. 
Vapor production
Despite being disposable, our citrus delight ice disposable vapes (5000 Puffs) by Lucid Flow are generally much better performers than other pre-filled pods. Thanks to the greater e-liquid capacity(16ml capacity). It comes with 50 percent Vegetable Glycerin (VG) and 50 percent Propylene Glycol (PG). It is the ideal combination between smoother throat hits, amazing flavor, and fluffy, dense clouds. It has the power to vape but lacks the power to generate the larger vapor clouds that lower nicotine vapors seek. In fact, it is the odorless and discrete performance of disposable vapes and vape pods that make them useful for adults vaping on the go. In terms of flavor quality, our citrus delight ice disposable vapes (5000 Puffs) by Lucid Flow are outstanding. It opens the door for compact disposable vapes that still have a high enough puff count to last for a day or more. Sometimes much more.
Are you looking to buy citrus delight ice disposable vapes (5000 Puffs) by Lucid Flow? If yes, then you should look no further than the Ejuice Store. We are a premier online vape store providing an exclusive selection of vape juice flavors to choose from. For more information, please visit our website https://www.ejuicestore.com/ today!