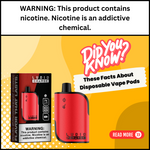 Disposable vape pods! You have probably hear about these devices for a long time now. Want to know what these devices actually are and how these works? Then scroll down and check out the following post.
What are disposable pod devices?
Vape pods are the latest approach to enjoying the vaping experience. These gadgets are designed to be used right out of the packaging without any complicated procedures or charging requirements. Some of these devices can be recycled, while others can be disposed of after use. They have a simple vapor delivery system that consists of a pre-charged battery, a heating component such as a metal coil, and a small pre-filled tank containing flavored e-juice.
How to use disposable pods?
Disposable pods are incredibly easy to use, offering hassle-free vaporizers that are widely available in the market. All you need to do is place the mouthpiece to your lips and inhale - no buttons or complex structures involved. Whether you're new to vaping or a seasoned pro, the Lucid Charge Disposable Vape range offers a variety of options that guarantee a smooth throat hit.
Why use disposable pods?
Disposable pods are the perfect choice for daily use, especially when traveling. If you're constantly on the move and don't have the time or patience to charge a device or carry around e-liquid bottles, disposable pods are the ultimate solution.
Where to Buy?
Disposable pods are widely available at vape shops, convenience stores, gas stations, and online retailers, depending on your location. You may also find a selection of disposable pods at your local cigarette store, although you may not always find the specific brand you're looking for. In such cases, reputable online retailers are your best option. We are one of the leading vape stores that offer a wide variety of brands and flavors under one roof.
Why Choose Lucid Charge disposable pods?
Among the several brands available in the market today Lucid Charge has turned out to be one of the most revolutionary products that vapers swear by. Each Lucid Charge disposable pod contains 14ml of vapes juice. The 5% (50mg) nicotine content with a 50/50 VG/PG Ratio! It can match an entire pack of cigarettes. The devices are small enough to fit in the palm of your hand. It is also convenient to transport while traveling. It is supported by patented anti-leak technology, a mesh coil, and nic salt juice. It will provide the cleanest flavors available. 
Exceptional flavors by Lucid Charge from the house of Shijin Vapor
There are a variety of exciting flavors available for disposable vape devices. For those who enjoy a refreshing and fruity vape experience, flavors like Aloe Pineapple Ice, Dragon Lychee Ice, and Kiwi Berry Ice offer unique and satisfying tastes with a cool menthol finish. If you prefer a more traditional flavor, Sweet Tobacco is a great option that provides the sweet taste of tobacco without any harmful smoke. Additionally, for those who enjoy a mix of sweet and sour flavors, options like Sour Blueberry Punch and Sour Strawberry Punch offer a tart and delicious experience reminiscent of sugar-coated belt ropes. Overall, with a range of delicious flavors to choose from, disposable vape devices provide a convenient and enjoyable way to experience the world of vaping.
Conclusion:
At E Juice Store we carry a wide range of disposable pod devices including Lucid Charge disposable pod. To explore the different flavors of Lucid Charge disposable pod devices like Sour Strawberry Punch Disposable Vape (7000 Puffs) by Lucid Charge visit https://www.ejuicestore.com/ today!