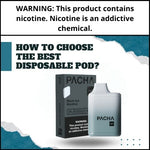 If you're looking for a way to kick that nasty smoking habit and finally quit for good, then disposable vapes might be the answer. Millions of smokers have used e-cigarettes to quit, and you could be next.
Disposable vapes have improved significantly over the last few years. The early models were gimmicky and unreliable, but now they deliver reliable, long-lasting and tasty nicotine vapour to help you quit smoking.
To choose the best disposable pod, here are a few important things you might want to take into account:
Battery life:
Many disposable e-cigarettes look alike, with their small and discreet design allowing them to fit in pockets and small bags. The best brands of disposable vape pens focus strongly on the length of time that can be used between charges.
Flavour:
Flavor is a critical component to the vaping experience. It's also one of the most enjoyable aspects of vaping, as many vapers enjoy trying new flavors. At ejuice.com, we want to help you find the best e-liquid flavour for your needs. 
Pod and disposable vapes have improved in quality over the years. At first, they were seen as cheap and more convenient than larger mod devices. Now, they offer the same high-quality e-liquid and vapour production as the average dedicated juice manufacturer.
Try our Black Ice Menthol Disposable Pod, a fruity menthol e-liquid that will appeal to your senses. This quick hit of deliciousness is filled with succulent blackberries and crisp cucumbers, then topped off with a blast of ice-cold menthol. This pod pack is the perfect vape on-the-go when you need to change up your flavor or want something new.
Atomizers:
Disposable vapes are easy to use, have no moving parts and are convenient. If you're looking for discretion, battery life, and flavour are important; but these aspects wouldn't matter in a disposable vape if the atomizer isn't good. Disposable vapes allow manufacturers to make products with their own special blend of performance and flavour production.
Disposable vape pens feature built-in atomizers that are ready to use and don't require any maintenance. The best brands have atomizers that burn through e-liquid efficiently, so you can use a disposable pen frequently without having to worry about clogs or weak atomizers. 
The right disposable vape will make it easier for smokers to make the switch from cigarettes. Make sure you keep these afore-mentioned points in mind when buying disposable vape.