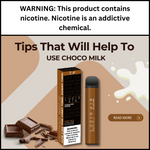 You must have noticed that many in your friend circle are trying to quit smoking and using disposable pods. If you have a similar desire, you can also start vaping using a disposable pod of Lucid Air. Such pods are sleek, comfortable to carry, and not as harmful as smoking. Here we discuss the means of using a disposable pod so that you can extend the longevity of the pod that you have purchased.
Check if the pod is working
A disposable pod generally does not have a button to activate. If your pod has a button then press that before you try to inhale. As you click the button, an indicator light will glow and let you know that the device is ready to use. If you notice that the indicator light is blinking, you can decide that the pod is low on battery. However, many pods do not have a start button and to activate those you just need to inhale holding it in your mouth. If the indicator light glows, it indicates that the device is making vapor. It is best to check whether the Choco Milk Disposable Pod (5000 Puffs) by Lucid Air is functioning properly after you have brought it.
Inhale steadily 
As we mentioned previously it is possible to activate the pod by inhaling. As you do such the battery supplies power to the heating chamber. This process heats the vape juice and turns the liquid into vapor which you can inhale. As inhalation activates the device you need to inhale correctly. It is best to draw in small amounts. This will help you not become overwhelmed by inhalation that is too deep. If you inhale sharply, it can lead to light-headedness which is not a comfortable experience. It will also draw more power from the battery and shorten the life of the pod.
Proper storing 
It is wise to store your disposable pod at room temperature than in a cold place. If you store the pod at a cold place there will use more battery to heat the heating chamber to make vapor. If it is such that you do have to store it at a cold place, hold the pod for some time before inhaling from it.
Do not disassemble 
Do not try to disassemble a disposable pod or try to recharge it. It is best to use it as it is and when you are unable to inhale any vapor, call us at EJuice Store to have a new disposable pod. We will make certain that it reaches you at the earliest.