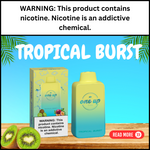 In the vaping world, most vaping enthusiasts are constantly looking out for innovative and convenient options offering an exceptional experience. If you're planning an escape to a tropical paradise with every puff, you should look no further than the Tropical Burst Disposable Vape by One Up Disposable.
This disposable vape device offers around 6000 puffs of luscious tropical flavors and allows you to embark on a long-lasting and satisfying vaping journey. Please continue reading this post and understand more about the features, flavors, and overall experience that the Tropical Burst Disposable Vape offers.
Long-Lasting Pleasure –
One of the most remarkable features of this Disposable Vape is its amazing capacity as you can expect your device to offer up to 6000 puffs. This disposable device is ideal for both casual vapers and those who want prolonged sessions without charging the device consistently or replacing cartridges. With this disposable vape, you can be able to relax and indulge in a tropical oasis for an extended period so that you will savor every moment.
Convenient Design –
The Tropical Burst Disposable Vape is made with convenience in mind. The device comes pre-filled with 8ml of e-liquid which means you won't need to worry about messy refills or cumbersome cartridges. Its sleek and compact design fits comfortably in your hand and makes it an ideal alternative to on-the-go vaping. Made with a draw-activated firing mechanism, the device eliminates the need for buttons and offers a seamless and hassle-free vaping experience.
Tropical Burst Flavor Explosion –
The Tropical Burst Disposable Vape comes with tropical flavors. One Up Disposable has perfectly crafted a blend capturing the true essence of a tropical paradise. This disposable device will leave your taste buds dancing with delight.
With every inhale, you'll experience a tropical burst of succulent pineapple, juicy mango, and tangy citrus fruits. That means, you will get a harmonious symphony of tropical flavors that will feel like taking you to a sandy beach under swaying palm trees.
Smooth and Satisfying –
The Tropical Burst Disposable Vape offers more than just exquisite flavors as it delivers a smooth and satisfying vaping experience. The disposable device comes with a superb-quality built-in coil ensuring consistent vapor production and a robust flavorful experience. The draw is optimized to offer you an effortless and enjoyable vape while making you fully immerse in the tropical burst of flavors with every puff.
Conclusion –
If you want an unforgettable vaping experience, you should look no further than the Tropical Burst Disposable Vape by One Up Disposable. This disposable vape device will take you on a tour of tropical paradise encapsulated in a sleek and convenient device. With an impressive 6000 puffs, the device allows you to enjoy a long-lasting journey of delightful flavors and take you on a blissful vacation with every inhale.
You will be in awe when you look at the simplicity and convenience of disposable vapes while indulging in the tantalizing flavorful blend of pineapple, mango, and citrus fruits. Grab a bottle of disposable vape bottle today from Ejuice Store.
Get your Tropical Burst Disposable Vape and enjoy a vaping adventure like no other as well as experience the burst of the tropics today!