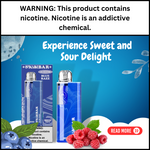 Have you ever tried a blue raspberry? That delectable combination of sweet and sour with a hint of berry goodness can be utterly delightful. If you're a fan of this mouthwatering flavor, you're in for a treat. Sugar Bar SB8000 has introduced their Blue Razz Disposable Vape, promising a vaping experience like no other.
Sugar Bar SB8000 - A Flavorful Experience:
Sugar Bar SB8000 is not your ordinary disposable vape brand. They've carved a niche for themselves by crafting a diverse range of enticing flavors that cater to a wide array of taste preferences. Each flavor in their lineup is meticulously designed to whisk your taste buds away on a sensory adventure.
Blue Razz - A Flavorful Extravaganza:
Now, let's dive into the star of the show, the Blue Razz Disposable Vape (8000 Puffs) by Sugar Bar SB8000. This particular flavor is a true masterpiece for fans of the sweet and sour combo. The prominent blue raspberry notes create a burst of flavor that is nothing short of extraordinary. With every puff, you'll experience the perfect balance of sweetness and tartness, complemented by the subtle undertones of juicy berries. It's a taste sensation that will leave you craving for more.
A Feast for the Eyes:
One of the standout features of Sugar Bar SB8000's disposable vape is its vibrant and eye-catching design. The device's color palette is thoughtfully chosen to correspond with the unique flavors it offers. When you pick up the Blue Razz variant, you'll be greeted by a sleek and enticing blue hue that reflects the flavor profile inside. It's like holding a piece of art that you can enjoy with all your senses.
8000 Puffs - An Extended Vaping Experience:
Another remarkable aspect of Sugar Bar SB8000's Blue Razz Disposable Vape is its impressive longevity. With 8000 puffs in a single device, you can enjoy your favorite flavor for an extended period. This means less frequent replacements and more time to savor the delightful taste of blue raspberry.
Convenience and Portability:
Disposable vapes are known for their convenience, and Sugar Bar SB8000 takes it a step further. Their Blue Razz Disposable Vape is incredibly easy to use; simply unbox it, and you're ready to start vaping. No need to worry about charging or refilling. It's a perfect choice for both beginners and experienced vapers looking for a hassle-free experience. Plus, its compact design makes it highly portable, allowing you to enjoy your favorite flavor on the go.
Don't miss out on this sensational vaping experience – try the Blue Razz Disposable Vape (8000 Puffs) by Sugar Bar SB8000 today!