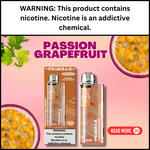 When it comes to vape flavors, there's a seemingly endless array of options available to choose from. Whether you're a seasoned vaper or just entering the vaping world, finding the perfect device can be a challenging task.
What about choosing the Passion Grapefruit Disposable Vape (8000 Puffs) by Sugar Bar SB8000? This flavorful disposable offers a convenient and delectable vaping experience.
Let's delve into what makes this disposable vape exceptional:
Understanding The Basics -
The Passion Grapefruit Disposable Vape by Sugar Bar SB8000 is an integral part of the SB8000 series, known for its long-lasting battery life and impressive puff count. Offering around 8000 puffs, this disposable vape allows you to avoid the hassle of recharging or refilling frequently. The Sugar Bar disposable vape is ideal for those who are always on the go or simply want a hassle-free vaping experience.
Delicious Flavor Profile -
The Passion Grapefruit Disposable Vape is known for its exceptional and tantalizing flavor profile. Combining passionfruit and grapefruit, this Sugar Bar disposable vape offers a tropical burst of flavor that tastes sweet and tangy. You will enjoy this delightful concoction that will tickle your taste buds and keep you coming back for more.
Amazing Nicotine Strength -
Sugar Bar SB8000 offers different nicotine strength options to accommodate vaping preferences. Whether you want a mellow vaping experience with lower nicotine content or a stronger hit with higher nicotine levels, you will find the right choice for you. The flexible nicotine strength ensures that both beginners and experienced vapers enjoy this disposable vape.
Ease of Use -
Perhaps one of the most significant reasons behind choosing this disposable vape is its ease of use. You don't need to fill tanks, charge batteries, or handle coils to operate this disposable vape device. All you need to do is to open the package, take a puff, and enjoy the flavor. When you're done with the device, dispose of it responsibly. It's that simple process.
Portability -
Passion Grapefruit Disposable Vape has a compact design that makes it incredibly portable. It can fit into your pocket or bag and can be convenient for those who are constantly on the move. Whether you're traveling, commuting, or simply need a quick nicotine fix, you should consider this disposable vape.
Longevity -
The impressive 8000-puff capacity of this disposable vape means it's built to last. That means you won't need to run out of vaping satisfaction anytime soon. This longevity offers great value as well as reduces the environmental impact associated with disposable products as you won't need to dispose of them more often.
Final Conclusion -
If you're looking for a vape that combines convenience and exceptional flavor, you should look no further than the Passion Grapefruit Disposable Vape (8000 Puffs) by Sugar Bar SB8000. With its impressive puff count, delectable passionfruit and grapefruit flavor, and multiple nicotine-strength options, this disposable vape caters to different preferences. In addition, its portability and long-lasting benefits make it a good choice for those always on the move.
So, you should add Passion Grapefruit Disposable Vape (8000 Puffs) by Sugar Bar SB8000 to your Ejuice Store cart and enjoy vaping this delicious flavor to the fullest.