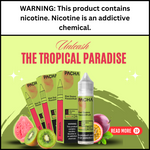 Do you want to embark on a tantalizing journey to the heart of the tropical paradise? And are you looking for a delectable blend of exotic fruits? If yes, then you should look no further than Kiwi Guava Passionfruit by Pachamama 60ml.
This extraordinary vape juice combines the sweet and succulent flavors of kiwi, the tropical tanginess of guava, and the aromatic notes of passionfruit. Please read this blog and know how you get an unforgettable vaping experience with Kiwi Guava Passionfruit vape juice by Pachamama 60ml:
A Tropical Flavorful Symphony -
Pachamama's Kiwi Guava Passionfruit vape juice comes with the perfect fusion of three exotic fruits that will tantalize your taste buds. The sweetness and juiciness of kiwi, with its refreshing green flesh, combine perfectly with the tropical tanginess of guava to offer a balanced and delicious base. With the addition of passionfruit, the vape juice offers a delightful aromatic twist that completes the symphony of flavors with an exceptional and satisfying finish.
Premium Ingredients –
Pachamama uses only the finest ingredients while manufacturing their e-liquids. The Kiwi Guava Passionfruit vape juice blend is perfectly crafted with care, making sure that each puff delivers an authentic and superb-quality vaping experience. This e-liquid is made with USP-grade vegetable glycerin and propylene glycol that ensures smoothness and optimal vapor production.
Balancing the Sweetness and Tanginess -
What sets the Kiwi Guava Passionfruit vape juice apart is its perfect balance of sweetness and tanginess. The sweetness of the kiwi and the tropical notes of guava get complemented by the tartness of passionfruit and all of them combined to create a multi-dimensional flavor profile that feels refreshing and satisfying. Every inhale and exhale offers a symphony of flavors that will leave you craving for more.
Smooth Nicotine Options -
Pachamama's Kiwi Guava Passionfruit comes in different nicotine strength options. They are ideal dir vapers with different preferences and nicotine requirements. Whether you want nicotine-free vaping or prefer a more nicotine throat hit, you can choose the ideal nicotine level that matches your taste and cravings.
Premium Size Bottle –
The Kiwi Guava Passionfruit e-liquid comes in a premium 60ml bottle so that it has enough vape liquid to enjoy your tropical escape for an extended time. The bottle design is convenient enough to fill your tank or pod system, making the vaping experience hassle-free and smooth.
Final Conclusion -
Are you craving an escape to a tropical paradise? Please shop for Kiwi Guava Passionfruit by Pachamama 60ml from Ejuice Store and enjoy vaping its masterful blend of kiwi, guava, and passionfruit. This e-liquid will take you on a delightful vaping journey that will leave you with a sense of wanderlust. Grab a bottle of this Pachamama vape juice now and get ready to immerse yourself in the symphony of tropical delights. Allow the Kiwi Guava Passionfruit to take you on a vaping adventure like no other while vaping Kiwi Guava Passionfruit by Pachamama 60ml.