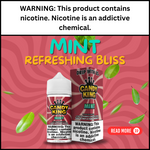 In the world of vaping, finding the perfect e-liquid that satisfies your taste buds can be an exhilarating journey. If you're a menthol enthusiast seeking a new and invigorating flavor, look no further than Candy King Mint. This premium e-liquid by Drip More is a delightful blend of cool, crisp mint leaves that promises to awaken your senses and deliver a refreshingly smooth vaping experience. Let's discuss what makes Candy King Mint a favorite among vapers and why it deserves a spot in your collection.
An Unforgettable Flavor:
Candy King Mint 100ml boasts an irresistible combination of menthol and mint flavors, carefully balanced to deliver a clean and refreshing taste. The menthol infusion adds an extra layer of coolness, making each inhale a satisfyingly icy experience. Whether you're a seasoned menthol fan or looking to explore new flavor horizons, this e-liquid is sure to captivate your taste buds.
Crafted to Perfection:
One of the reasons behind Candy King Mint's immense popularity is its commitment to quality. Manufactured by Drip More, a reputable brand in the vaping industry, this e-liquid is created using only the finest ingredients. The outcome is a product that not just meets but surpasses the expectations of even the most discerning vapers. The attention to detail in its formulation ensures a consistent and premium vaping experience every time you indulge.
A Versatile Vaping Experience:
Candy King Mint 100ml comes in three nicotine levels to accommodate vapers with diverse preferences: 0mg, 3mg, and 6mg. Whether you opt for nicotine-free vaping or desire a gentle nicotine buzz, this e-liquid has precisely what you need. With its 70/30 VG/PG ratio, it strikes a harmonious equilibrium between rich flavor and velvety vapor production, enabling you to relish dense clouds without compromising on taste.
An All-Day Delight:
Unlike some overpowering flavors, Candy King Mint's subtlety makes it an excellent all-day vape. With its refreshing and invigorating notes, Candy King Mint is the perfect companion for any occasion, never overwhelming your senses. Whether you're relaxing at home, on a refreshing walk, or simply need a quick pick-me-up, this e-liquid is sure to deliver a consistent and enjoyable vaping experience.
Community Favorites:
Candy King Mint 100ml has garnered praise from the vaping community worldwide. Vapers appreciate its genuine mint taste and smoothness, which sets it apart from other minty e-liquids on the market. The positive reviews and enthusiastic recommendations speak volumes about the popularity and satisfaction that vapers derive from this exceptional blend.