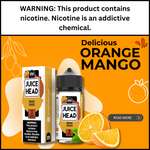 Juice Head is a premium vape juice brand presenting you with an extensive selection of flavors for offering a highly delightful vaping experience. You will love a series of flavors under the brand's umbrella. The ejuice brand has developed a handful of award-winning tastes that vapers from all over the world love.
You can enjoy the vaping delight of sweet fruits to cool menthol flavor while immersing in a masterful taste with every puff. Juice Head is headquartered in Garden Grove, California, and manufactured by Streamline Vape Co. – one of the largest and most well-known names in the vaping industry for offering an extensive portfolio of vape brands and products.
Orange Mango vape juice by Juice Head 100ml is bursting with fruity delights and satisfying flavor creations to amazing you on every puff. The perfect blend of zesty orange and tropical mango flavors gives a delicious and superb-quality vaping experience. The Juice Head Orange Mango vape juice tastes just as you would expect, as the perfect combination of oranges and tropical mangoes will give you an all-day vape.
The flavor gives out an out-of-the-world satisfying experience, and your taste buds will enjoy a top-quality vaping experience, unlike anything you have tried beforehand. Everything about this vape juice is pleasing, from the citrus orange flavors to the juicy mangos. It is available in a 100ml bottle and can be enjoyed in 0mg, 3mg, and 6mg nicotine strength.
The Orange Mango vape juice by Juice Head 100ml combines the perfect flavors to provide an outstanding vaping experience. The blend of sweet mangoes and citrus oranges offers the right balance of zestiness and creaminess. When you take a puff, you will appreciate how perfectly both flavors combine to create a memorable vaping experience.
The orange flavor's juiciness and tropical mango flavor make this Juice Head vape juice hard to put down. However, to enjoy natural fruit flavors, you should try Orange Mango vape juice by Juice Head 100ml.
Presenting you an incredible vape from the first puff to the end, you will find it hard to get another vape juice blend so pleasurable. Combining delightful tastes of oranges and mangoes, the vape juice blend makes the vaping experience so enjoyable.
If you are looking for another delectable vape flavor to try, consider buying Orange Mango vape juice by Juice Head 100ml from Ejuice Store. Then, shop other flavors from Juice Head and reward your vape taste buds with something very pleasurable and delightful on every puff.