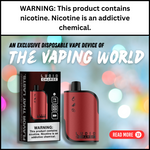 Are you always looking out for the latest vape products on online vape shops and perusing reviews? Then you may already know about the rising popularity of disposable pods among vapers of all stripes. These devices offer more power and better flavors than traditional cigarettes! It has an impressive battery life. It is an all-in-one compact yet portable product that comes in one vape device. But what exactly is a disposable vape device? Read on to find out.
What are disposable vape devices?
Disposable vape devices are pre-filled, pre-charged devices that are designed for one-time use. Unlike refillable vape devices, they cannot be recharged or refilled once the battery or juice runs out. These devices come in a thicker and more personalized design and work by automatically activating when the user inhales from the mouthpiece, generating nicotine-infused vapor. Each device typically provides the user with the same number of puffs as a pack of cigarettes and is a versatile option for vaping enthusiasts.
What is the reason behind the increasing popularity of these devices?
Disposable vape devices have gained immense popularity due to their convenience and ease of use. These devices are budget-friendly and do not require any prior experience, making them an ideal choice for both novice and experienced vapers. Additionally, their compact size allows them to fit in any pocket, making them extremely stealthy and easy to carry around. Overall, these factors have contributed to the increasing popularity of disposable vape devices in the vaping community.
We at E Juice Store realize the benefits of using disposable vape devices and hence recommend all our customers, especially first-time vapers to use disposable vape devices instead of traditional e-cigs. And hence we carry a wide selection of disposable vaping devices from top manufacturers like Shijin Vapor. You can find all the delicious flavors from the house of Shijin Vapor with us. 
Why Lucid Charge by Shijin Vapor?
Disposable vaping devices from top manufacturers like Shijin Vapor are small and compact devices that come with a 14ml capacity tank and a nicotine strength of 5% (50mg) & 50/50 Vg/PG ratio in each flavor. Every device from the manufacturer contains approximately 7000 puffs. It comes with a fully charged battery that allows you to begin vaping right away and even on the go! Furthermore, Lucid Charge is the first disposable vape system to include a nicotine reduction option. Some flavors by Lucid Charge from the house of Shijin Vapor are:
Aloe Pineapple Ice: Refreshing aloe with lush pineapple and a menthol finish
Grapple Ice: Plump grapes infused with crisp apples and a chill menthol finish 
Kiwi Berry Ice: The sweeter hybrid fruit with an icy finish 

Peach Mango Strawberry: Sweet peaches, succulent mangos, and freshly sliced strawberries 

Peach Orange Cranberry: Ripe peaches, sweet oranges, and tart cranberries 
Sour Blueberry Punch: Tart Blueberry sugar-coated belt ropes
Sweet Tobacco: A sweet tobacco flavor that is sure to satisfy any cravings.
If you want to look into other similar options, Visit our website right now!