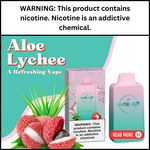 When looking for disposable vapes, it's difficult to find a vape product with a delightful flavor profile, impressive battery life, and convenient portability. However, the Aloe Lychee Disposable Vape by One Up Disposable stands out from the rest because of its exceptional features. Offering a whopping 6000 puffs and a tantalizing flavorful vape blend of aloe vera and lychee, this disposable vape gives you an experience that you can truly savor.
How to Enjoy the Aloe Lychee Disposable Vape?
One Up Disposable has garnered recognition for crafting superb-quality disposable vape devices and the Aloe Lychee Disposable Vape (6000 Puffs) by One Up Disposable is no exception. From the moment you vape this sleek and compact disposable device, you'll be amazed by its stylish design. This disposable device is lightweight that allows you to carry it comfortably in your hand or pocket, making it an ideal choice for vaping on the go.
Unique Flavor Profile
The Aloe Lychee Disposable Vape gives a tantalizing experience to your taste buds with its exquisite flavor blend. The perfect combination of succulent aloe vera and the sweetness of lychee offers you a truly refreshing and exceptional vaping experience.
On every inhale, it will bring the smoothness of aloe vera to your senses whereas the exhale gives you the delicate sweetness of lychee. With perfectly balanced flavors, this disposable vape is a must-try for flavor enthusiasts.
Impressive Battery Life
One of the main features of the Aloe Lychee Disposable Vape is its long-lasting battery life. With amazing 6000 puffs, this device makes sure that you have a satisfying vaping experience for a long time. Whether you're a casual vaper or a frequent user, this disposable vape won't need constant recharging or worry about running out of battery power. It makes an excellent alternative for those who want a hassle-free vaping experience without compromising on performance.
User-Friendly Design
The Aloe Lychee Disposable Vape comes with a user-friendly design making it ideal to use for both beginners and experienced vapers. This disposable vape is pre-filled with premium-quality e-liquid and is specifically designed to ensure consistent flavor throughout its lifespan.
The disposable vape device is draw-activated, that won't require buttons or complicated settings. You need to take a puff, and the device activates automatically while offering a smooth and satisfying vapor cloud.
Moreover, the Aloe Lychee Disposable Vape comes with an integrated transparent window that allows you to monitor your e-liquid levels easily. With this convenient feature, you can always know when it's time to restock or try another flavor from the One Up Disposable range.
Safety and Quality Assurance
One Up Disposable focuses more on ensuring safety and quality while producing their vape products offering a relaxing, hassle-free vaping experience. The Aloe Lychee Disposable Vape is made from premium materials and is perfectly equipped with different safety features, including overheat protection and short-circuit protection. Hence, you can expect to get peace of mind and overall reliability and longevity from the device.
Final Conclusion -
The Aloe Lychee Disposable Vape (6000 Puffs) by One Up Disposable is a remarkable vape juice that combines an exceptional flavor profile, extended battery life, and user-friendly design. With its unique blend of aloe vera and lychee flavors, you will get a refreshing and delightful vaping experience.
Whether you're a vaping enthusiast or a beginner, the Aloe Lychee Disposable Vape will captivate your senses and will take you on a satisfying journey into the world of vaping. Please place an order of Aloe Lychee Disposable Vape (6000 Puffs) by One Up Disposable at Ejuice Store and check out available vape juice flavors for a refreshing, delightful experience.