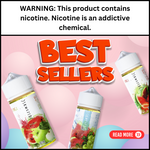 Are you looking for delicious and unique vape juice flavors to try? We at E Juice Store offer a wide selection of vape juices and vape products from different manufacturers and brands. Being in this industry for years now, we prioritize quality over quantity. Hence, we assure you that you will get only high-quality vape juices and products with us. Whether you are a new vaper or a seasoned one, you will definitely love to explore our website and find the right product you are looking for!
Among the different vape juice manufacturers available, today we want you to know about one of our best-selling and top-rated vape juice brands Skwezed! The products of this brand are high functioning and provide some of the best modern vape juices on the market. 
About Skwezed
Skwezed company comes with a goal to provide the highest quality wholesale vape juice at the most competitive pricing. The manufacturer swears by having everything that vapers need to relish their vaping experience. The company also has taken the new laws and regulations by the US government seriously. Moreover, for all their vape juices and products they possess all essential certifications. So get indulged in the Skwezed products confidently knowing that the company is fully compliant with all rules and regulations.
To ensure that its consumers receive an amazing and consistent vaping experience, the company follows a strict testing and certification process which ensures that its products are of the highest quality in terms of purity and safety.
The Flavors
Skwezed contains a wide selection of high-quality vape juice flavors that include, green apple, banana, grapefruit, and many more. We at E Juice Store would like to bring you a wide range of delicious vape juices in a variety of flavors and nicotine concentrations by Skwezed. Following are three best-selling vape juices for you:
Watermelon White Grape by Skwezed 100ml
The Watermelon White Grape by Skwezed will take you on cloud nine with its refreshingly light flavor of white grape paired up with the overwhelming juiciness of watermelon.  The result is incredibly delectable. 
Watermelon Green Apple by Skwezed 100ml
Watermelon Green Apple is the latest addition to the lot! It delivers an explosion of both flavors that act as a summer refresher that will assist you in staying cool throughout the day. While green apple is a bit more on the sour side, the rich watermelon flavor adds sweetness to it. It is an incredibly silky vape juice that flows smoothly from the first pull to the last. 
Watermelon Strawberry by Skwezed 100ml
The overpoweringly sweet taste of juicy watermelon and ripened strawberries is summarized in this latest vape juice by Skwezed which is no doubt a great mixture of the two most debatably sweet and succulent fruits. Get your senses stimulated instantly with this flavor!
Want to explore more such fun-filled flavors? E Juice Store is open 24/7 for you! Visit our website today!