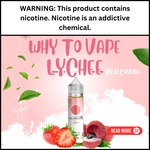 While vaping, reward your vape taste buds with delicious flavors and indulge your senses in a delightful experience. One such exceptional flavor that stands out among the rest is Lychee by Alcovape 60ml.
This delectable vape liquid concoction comes with the succulent and exotic flavor of lychee fruit and combines it into a vape juice that will make you craving for more.  Please check out this blog post and know why you should embark on a vaping journey with Lychee by Alcovape.
Delicious Flavor Profile –
Lychee is well-known for its vibrant and tropical taste and stands out as the main flavor in this remarkable e-liquid. Alcovape has brought the authentic essence of the lychee fruit and allowed vaping enthusiasts to enjoy an incredibly authentic and enjoyable vaping experience.
On inhale, the sweetness and juiciness of ripe lychee along with a hint of floral undertones will refresh your taste buds. Maintaining the right balance between sweetness and freshness, Lychee by Alcovape 60ml stands out as the ultimate vape flavor for all fruit enthusiasts.
Quality Ingredients and Craftsmanship –
When it comes to choosing vape juices, you should focus on the quality of ingredients and craftsmanship, important for the overall vaping experience. Alcovape is a renowned brand in the vaping industry dedicated to using only the finest ingredients in their vape liquids. So, Lychee by Alcovape 60ml is no exception.
Crafted with extreme care and precision, this 60ml e-liquid makes sure that you enjoy a consistent and delightful vaping experience from the first puff to the last. Focusing on attention to detail in the flavor formulation and production process, this Alcovape juice offers an extremely amazing vape experience.
Smooth and Satisfying –
Lychee by Alcovape allows you much more than just vaping this enticing flavor as it feels extremely smooth and satisfying which will make you come back for more. The e-liquid has been carefully crafted with a balanced ratio of vegetable glycerin (VG) and propylene glycol (PG). Hence, you will take advantage of its dense vapor production and a pleasant throat hit.
Versatility –
The main reason behind choosing Lychee by Alcovape is its versatility. Though this vape liquid is an exceptional flavor on its own, it makes a perfect base for creating unique flavor combinations. You can combine this flavor with other fruit flavors, menthol, or even dessert flavors as Lychee vape juice offers you a perfect canvas to do experiments with different flavors.
Conclusion –
Lychee by Alcovape 60ml deserves a spot in your vaping collection. With its authentic flavor profile, quality ingredients, and smooth vaping experience, it stands out from its counterparts in the vaping industry. Whether you love vaping fruit flavors or look for a refreshing and satisfying vape, you should buy Lychee by Alcovape 60ml from Ejuice Store. 
So, grab a bottle today, and let the freshness and sweetness of lychee take you to vaping bliss. Please check out our special offers and discounts and save more on your favorite vape flavors.