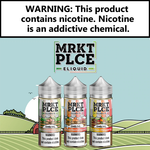 MRKTPLCE eLiquid is the popular name in the vaping industry. The eLiquid brand specializes in offering delectable fruity blends hand crafted to give your tastebuds a thrilling experience that you long for all the while.
MRKTPLCE flavors are based on sub-ohm salt that allows you to harness and enjoy complete flavor without any taste of nicotine. All of their vape juices are available in 0mg, 3mg and 6mg in 100ml bottles. Take a look at MRKTPLCE eLiquid fruity flavors to find your favorite today:
Iced Pineapple Peach Dragonberry by MRKTPLCE 100ml
Iced Pineapple Peach Dragonberry by MRKTPLCE 100ml bottle has the infusion of juiciness of pineapple, sweet peaches and dragon fruits. You'll feel the tropical summer sensation on ice.
When you take this vape juice, get ready to enjoy the touch of pineapple that give you nice and smooth citrus start. After that, sweetness of the juicy peaches round off the rough notes of pineapple takes over. The juicy peaches give the vape juice truly amazing taste.
After that, get ready to enjoy the taste of dragon berry – a blend of dragon fruit, a common fruit made with a mix of sweet and succulent berries.
Fuji Pear Mangoberry by MRKTPLCE 100ml
Fuji Pear Mangoberry by MRKTPLCE 100ml has the combination of Fuji apples, sweet pears, ripe mango and succulent berries. You'll feel like enjoying tropical fruit explosion.
Get the crisp fresh apple taste of Fuji apple followed by sweet flavored, juicy pear. Now it's the time for Mangoberry – mango infused with bunch of juicy, fruity and sweet berries.
Watermelon Hula Berry Lime by MRKTPLCE 100ml
Watermelon Hula Berry Lime by MRKTPLCE 100ml has the infusion of sweet watermelon, hula berry and freshly squeezed lime. It's a sweet and tart delight that every vaping enthusiast won't want to miss out.
The Watermelon Hula Berry Lime eLiquid comes with watermelon that offers exceptional, sweet and true to taste flavor. Then, you'll get Hula Berry flavor that you may or may not have ever heard of.
Generally, hula berries taste like a blend of pineapple and strawberry; but in reality they are a genetic cross between different genetics of a pine berry. After that, you'll have the tangy, citrus lime flavor. The citrus limes are freshly squeezed to add a very unique finish to this unique vape blend.
It's better to experience it on your own and know what exactly the Watermelon Hula Berry Lime by MRKTPLCE is all about. Rest assured that, this delectable vape juice blend won't leave you disappointed!
Bottom Line –
Now you get some of the best flavored vape juice blends by MRKTPLCE you should definitely give a try at least once in a lifetime. If you want to buy MRKTPLCE eLiquid blends, you should look no further than Ejuice Store.
We offer special deals and discounts on our e-juice brands and disposable devices. Please check out our website and get a better understanding about our products beforehand.